Professional Landscape Installation, Landscape Design and Management Services
TLC Lawn provides both professional landscape installation and quality Landscape Management services to a diverse range of clients in southwest Florida.  Our customer base includes Residential, Commercial, Communities, Condominium Associations, Churches and Government Properties. With 30 years of experience, we know how to do it right the first time.
Landscaping Division
TLC Lawn's landscaping services division strives to make your landscape the envy of your neighbors. Whether you are looking to improve an existing or install a complete new landscape, we have the tools, staff and knowledge to accomplish the job.
We take you from a starting idea to the completed wow factor in a short amount of time. Each landscape is different, so we help take out the guess work. If you know what you want, great, we can make it happen. If you don't, we can guide you through the entire process. Not every palm is the same. Many do well and some have problems. When it comes to shrubs, hedges and plants, there are many choices. Our staff can advise you on the pros and cons for each. Your sod choice should complement your overall landscape. Of course, we also take into account your desired level of maintenance after the installation.
Simple & Easy Landscape Design Process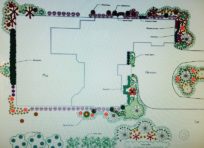 First, we consult with you to determine your goals and needs. If the project is large or complicated, we can design the landscape through our CAD system. A detailed, free estimate is then prepared for you, so that you can see the cost of your project. If it does not fall within your budget, we will work with you to develop a plan that will. Once we agree on terms, we schedule the project and begin the installation. Finally, after completion, we do a walk through with you to make sure you are a satisfied customer.
Large and Small Landscape Installations and Renovations
Landscape Design
Sod Installation
Bocce Ball Court installation
Artificial Turf Repair and Stretching
Palm tree installation
Drainage problems
Walkways and Patios
Decorative Stone installation
Annuals and Mulch installation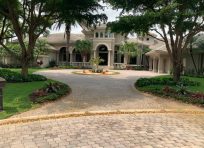 Landscape and Grounds Management
The primary focus of our landscape management division is to maintain a healthy and well-groomed property within our customer's specifications. This is not always an easy task given our sub-tropical climate. Our seasoned staff is constantly being praised for their knowledge of proper pruning techniques. Different plants require different types of pruning for long term survival. Hand pruning does take a bit longer, but certain types of plants respond better.  Our teams are qualified to handle both high and low maintenance lawn service.
Landscape Pest Control
Pest Control is a large part of having a beautiful landscape. With over 200 different strains of fungus and countless insects, pest control is not only advised, but essential. We have an extensive background in pest control.  Did you know that a tree injection may help some ailing palms? Shrubs and turf need year round control in our area. Trained professionals will review and analyze the health of your property, identifying any problem areas or concerns. We can then discuss a plan of action that best suits your individual needs and budget.
Member of Florida Nursery Growers Association (FNGLA)
BMP and GI-BMP Certified
Licensed and Insured in Collier and Lee Counties (License number 33621)
Over 25 Years of Proven Success
In Southwest Florida, our service area covers Bonita Springs, Estero, Naples and Marco Island
TLC Lawn takes pride in providing our clients with truly exceptional service and our Portfolio of landscaping projects is a testament to the quality of our work. If you are looking for an honest and dependable landscape company, you will be happy you found us. Our motto is simple, perform quality service at a fair price. Contact us today and let us show you why we have so many satisfied customers.